After a few months work, PiggyAlarm 2.0 is now available on the app store. It's on sale now at $0.99 and if you already have the app, it is a free update.
This is a refresh of the app for iOS 7 with a few enhancements, notably, the ability to use songs from your music library as the alarm sound.
Download PiggyAlarm from the App Store here
The new v2.0 app icon: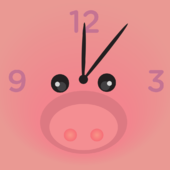 PS: Daphane and I would appreciate it very much if you can help to write a review for PiggyAlarm on the app store. It will take a few minutes of your time, but as an indie developer, having positive reviews on the app store helps a lot towards making it viable for us to continue developing apps.
Tweet
Buffer